judithx
(44)
from Germany
Gender: female
Age: 44
Zip code: xxxxx
Country: Germany
I speak:

am by chance here on the side stumbled and would like to try my luck
Hey g***er!
Wenn Du die verborgenen Fantasien in meinem Kopf kennenlernen möchten, zögern Du nicht und kontaktieren Du mich ;)
Wer weiß, vielleicht habe ich ja, wonach du suchst!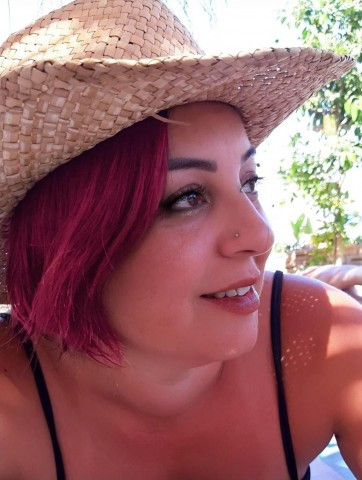 My Personal Info
| | |
| --- | --- |
| Height | 165 cm |
| Weight | 65 kg |
| Ethnicity | Mediterranian |
| Eye color | brown |
| Hair color | red |
| Hair length | shoulder |
| Figure | normal |
| Body hair | none |
| Pubic hair | none |
| Cup size | D |
| Glasses | yes reading glasses |
| Tattoos | several |
| Piercings | several |
| Marital status | divorced |
| Smoking | yes sometimes |
My preferences
What I'm looking for, is
What I would like to experience, is
What turns me on, is
Vanilla sex
A**l sex
O**l sex
Being submissive
Being dominant
Sex Toys
Outdoor sex
Public sex
RPG
Voyeurism
More about me
What I can tell about myself
I am friendly, I love to laugh and have fun. My life motto is "all or nothing"
What's being said about me
Not available
My erotic fantasy
Not available
Visit my diary daily to stay up to date with everything I do.

.

.

Ich wünsche Ihnen eine schöne Woche :)

.
Ich habe mit dem Sohn meiner Nachbarin geschlafen

Der Sohn meiner Nachbarin ist Physiotherapeut. Er sah nicht gut aus, aber er war ein attraktiver Mann. Ich war an diesem Tag allein zu Hause und habe mich schrecklich danach gesehnt. Ich habe am Tag zuvor einen Sexfilm gesehen und es kam mir in den Sinn. Ich rief am Telefon an und sagte ihm, dass mein Nacken sehr schlimm sei und er dringend zu mir kommen solle. 10 Minuten später war er bei mir zu Hause. Ich trug einen kurzen Rock und einen Body. Ich sagte, ich kann meinen Hals nicht bewegen. Wir gingen direkt ins Wohnzimmer und er fing an, mich zu massieren.
Er massierte meine Schultern und meinen Nacken mit seinen Händen. Nach ein paar Minuten war ich vollkommen entspannt. Sein S*****z war auch hart geworden. Jedes Mal, wenn sein harter S*****z meinen Rücken berührte, überkam mich ein Schauer. Ich schloss meine Augen. Vor meinen Augen hatte ich ihn in und aus mir kommen. In diesem Moment zog ich meinen Body aus und blieb mit einem BH zurück.
Ich fragte ihn, ob er die Massage im Bett fortsetzen könne. Er stimmte auch zu. "Kannst du mir auch die Beine massieren?", sagte ich. Er konnte mir nicht mehr antworten. Er wurde zu einem Roboter, der tut, was ich sage. Er fing an, zuerst meine Füße zu massieren. Dann überquerten seine schüchternen Hände den Bereich bis zu meinen Knien und kamen zu dem Bereich, der von Männern am meisten begehrt wurde. Er fing an, über meinem Knie zu streicheln und seine Hände wanderten meinen Rock hinauf. Aber als er zu meinen Hüften kam, hielt er inne. Also zog ich meinen Rock in einer Bewegung aus und öffnete meine Hüften. Er zog langsam mein schwarzes Höschen aus und mein Hintern war komplett in der Mitte. Er legte beide Hände auf meine Hüften und begann zu streicheln. Manchmal steckte er seine F****r in mein A***hl**h. Dann nahm ich seinen S*****z heraus und fing an, ihn zu l**ken. Er hat mich in eine D***yposition gebracht und wollte mich in den A***h f**ken. Ich bat ihn sofort, die Creme zu nehmen und aufzutragen. Er weitete mein A***hl**h mit seinen F****rn und drang langsam in mich ein. Früher war es anfangs langsam. Dann begann er zu beschleunigen und stöhnte vor Vergnügen. Ich war auch wahnsinnig vor Vergnügen. Dann stieg ich auf ihn und nahm seinen S*****z in mich auf. Seine Hände streichelten meine B***twarzen. Wir hatten multiple O****men. Es war eine tolle Nacht. Jedes Mal, wenn wir uns sehen, erinnern wir uns an diese Nacht und lächeln.

.

an einem schönen Sonntag :)

Wochenende

Ich wünsche Ihnen ein schönes Wochenende :)

hey :)

.

pearl

rare and beautiful..

heiße Frau..

Gibt es einen Mann, der mich vor dem Feuer liebt?


Prost!

...